THURSDAY
Oslo Impro Festival 2019 proudly presents six days of shows from local and international teams.
Each day we have three shows (18:00, 20:00 and 22:00) on two venues at Chateau Neuf: Lillesalen and Teaterscenen.
All shows this day are in English.
If you mix bourbon, Gaudí, Maradona, Marilyn Monroe, Elvis, Chopin, Munch and Grieg, and shake really hard, what do you get? An experience of fun, fear, craziness, mystery, light and dark, packed in a good glass of deep emotions behind it all, with a huge potential of getting the unique flavour missed in the hard shake and dying in terrible mediocrity. Fear it. Love it. It's the Hee! Haa! Who are we?! and you are deciding the answer.
A4, also known as The Awesome Foursome, is a compact and bijou group of 4 distant cousins separated at birth. Overcoming many obstacles including lack of humour and talent, The Awesome Foursome is determined to reach the dizzy heights of mediocrity, and believes that fun will triumph over misery, energy will vanquish lethargy, and laughter will conquer fear. Except fear of laughter.
Special Feature 40 min
Theater group PAPTAK - a group of long forms. It was founded from the need and willingness to create performances in which the comedy is a result of the clash of characters, emotions, relationships and the atmosphere. The No exit format is one place, several characters, each of which is created and developed duringthe performance and several dozen minutes of dense atmosphere. One uninterrupted scene that nobody will leave until the end, as taken out of "Twelve Angry Men", " Perfetti sconosciuti" or"Carnage".
Special Feature 40 min
If Eat, Pray, Love was an improv troupe, Wrench in a Bucket would be it. Winding it's roots back to such classics as Bridges of Madison County and Wings of the Dove, through the whirlwind of The Da Vinci Code into the current maelstrom of The 18th Abduction, Wrench in a Bucket takes a dramatically deep dive into the world of pretentiousness and grossly missing the point. Wrench in a Bucket is a long form improv collective from Seattle, WA, that performs a series of unrelated scenes with a common theme that attempt to find truth.
Student showcase 40 min
Scenes are the building blocks of great shows and we will focus on the 2-person scene to lay the foundation—wants, points of view, relationships, and heightening. We will then explore ways to use what we know about the characters, relationships, and ideas we've created to heighten and expand the comedic universe of our shows. Finally, we'll expand on what we already know about editing, openings, and group games to create magical and surprising organic moments on stage--embracing physical choices and trusting group mind.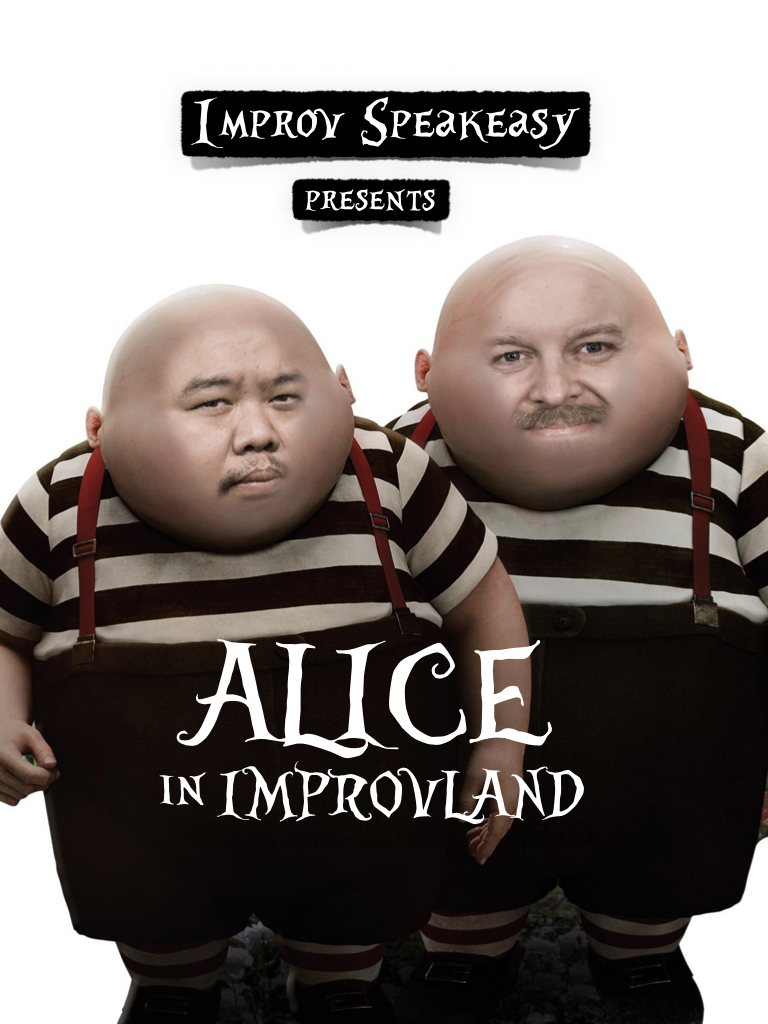 Special Feature 40 min
The Improv Speakeasy presents Alice in Improvland, a damn serious show - that is, until Alice falls into a rabbit hole, then all bets are off! In this improvised spinoff of Lewis Carroll's beloved children's tale, we dive into the fantastical world of the most wonders of wonders, filled with the Queens of Hearts (maybe, we don't know), the Mad Hatter (maybe), a smoking caterpillar (maybe) and grinning cats (yes please!). Audience gets to decide who Alice is and what kind of hole she falls into (be polite now).
The Improv Speakeasy is the founding house team of Impro Neuf International. A curious mix of clowns, actors, hula hoopists, museum curators, doctors and neuroscientists, we aim for both heart and brain in one show. Featuring festival guest teacher Andel Sudik as Alice.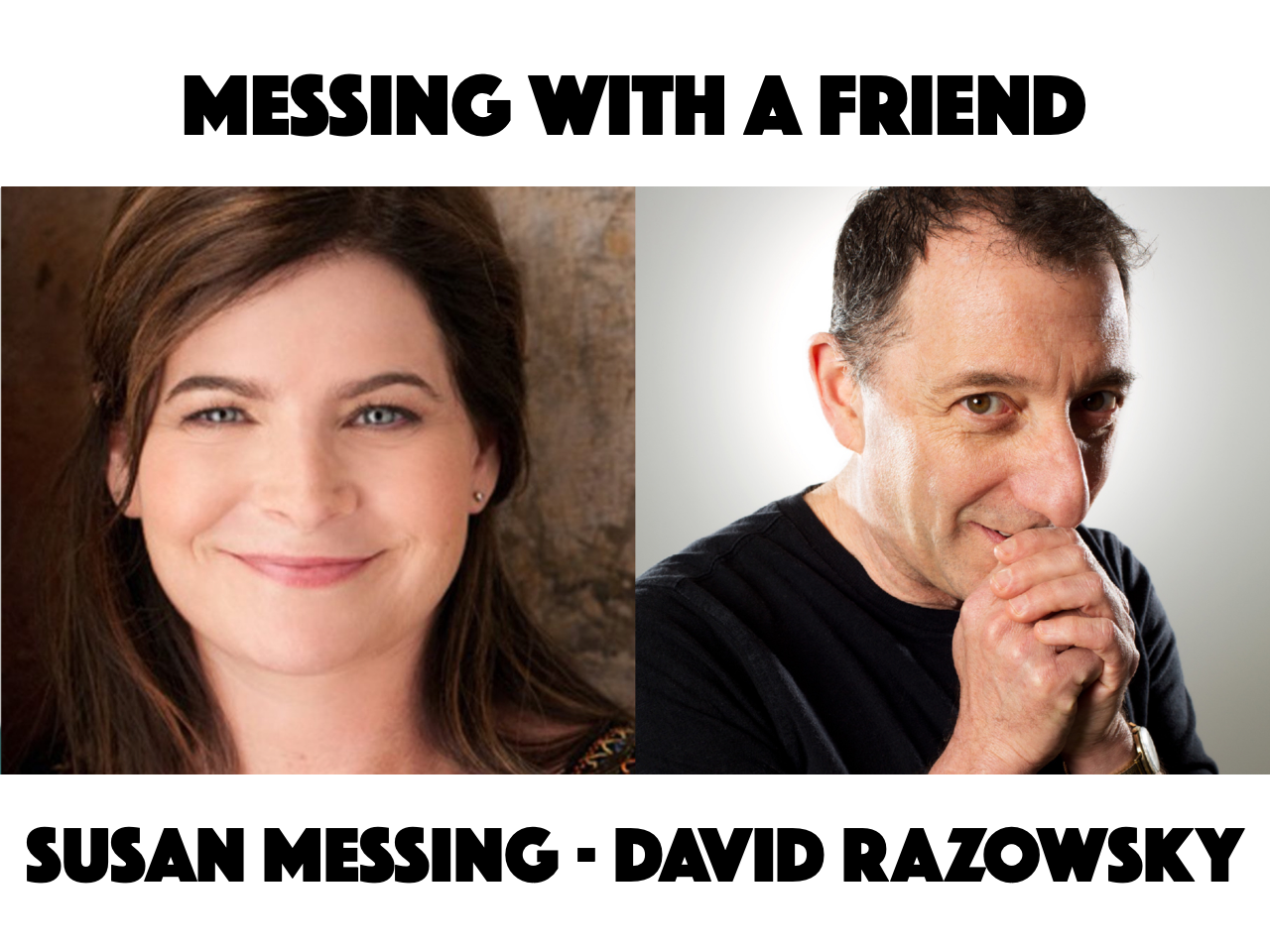 Special Feature 40 min
Critically-acclaimed show Messing with a Friend has been running for over 10 years featuring Susan Messing, and other invited talented and funny improvisers. A joyful, uncensored, and improvised romp through hell.
Susan Messing is one of the most outstanding improvisers of the United States. A New Jersey native and graduate of Northwestern University's Theatre School, Susan has been an improviser, comedian teacher and author for over 30 years. She is an alumna of the iO Theatre, Second City's Mainstage, and a founding member of Chicago's infamous Annoyance Theatre.
"Improviser of the Year" — Chicago Improv Festival
David Razowsky is the former artistic director of the Second City Hollywood and the host of the award-winning podcast ADD Comedy with Dave Razowsky. His teaching and performing has taken him to Australia, Ireland, Italy, Germany, Canada, Norway, The Netherlands, the UK, and New Zealand, where he recorded "Life: The Process is the Product, a TEDx Talk." As an actor at The Second City David worked with Martin Short, Steve Carell, Stephen Colbert, Amy Sedaris among others. www.davidrazowsky.com
LAND OF GIANTS are improvisers from Amsterdam who are short in stature, but titans of talent. While their fellow countrymen may rise above them in height, these improvisers have turned their attention to building big characters on stage. They explore a world that is bigger than them in every way, weaving through personas, scenarios and objects from that unique perspective. Every show starts inside of an object and builds out from there, relying heavily on the rule-breaking and physics bending capabilities of freeform improv.
Would you like to see something brilliant?
something brilliant are slowly taking the world of improvised absurdist theatre by storm. Equal parts profound and daft, witty and stupid, moving and baffling; something brilliant are arguably something brilliant.
These two highly trained idiots will make you smile and gently break your heart.
Special Feature 40 min
Fan favorites and rock stars Stacey Smith and Craig Uhlir are back! for the third year of Oslo Impro Festival with "The Funkeldøfs". This happened on the first year of the festival when they partnered up as an indomitable duo. Since then they had quite a ride: canoeing in dangerous water, being trapped in a school locker room, collecting nuts as a pair of strange squirrels and singing at the top of their lungs. We can't wait to see their infectious energy again.
Stacey Smith is a loud Long Islander who teaches at Second City and iO, and performs weekly at iO in The Musical Armando and The Deltones. She is also the creator of The Chicago Musical Improv Festival. stacejam.com
Craig Uhlir was born and raised in Chicago, in the USA. Craig began playing with Harold teams Deep Schwa, Chicago's longest running Harold team. and Valhalla. These days Craig teaches improvisation at iO and The Second City. Craig has been playing for over 23 years and teaching improv since the turn of the century. craiguhlir.com.
Special Feature (40 min)
Oslo Impro Festival 2019 All-Stars combine in one ridiculously overpowered show. Featuring a selection from 8 of the greatest improvisers in the world:
David Razowsky (Second City Hollywood artistic director, ADD Comedy), Stacey Smith (iO Theater, Founder of Chicago Musical Improv Festival), Craig Uhlir (iO Theater, Second City, iO Del Award Improviser of the Year), Andel Sudik (Second City, Boom Chicago, Jeff Award winner), Colleen Doyle (iO West artistic director, iO Del Award Teacher of the Year 2014, Improviser of the Year 2013; Dummy), Jason Shotts (iO Theater, 2-time iO Del Award Teacher of the Year 2011 2013; Dummy), Jeff Michalski (Second City, founder of Second City ETC), and Susan Messing (iO Theater and Second City Mainstage alumna, founding member of Annoyance Theatre).
Special Feature 40 min
Award-winning show Dummy is Colleen Doyle and Jason Shotts doing a two-person improvised show. Currently residing in Los Angeles, they started performing together at the iO Theater in Chicago in 2008. Since then, Dummy has performed for audiences in London, Rome, Copenhagen, Los Angeles, San Francisco, New York, San Diego, Austin, Houston, Washington DC, Cleveland, Detroit, Minneapolis, St. Louis, Atlanta, Traverse City and Gainesville. Dummy proudly won the iO Chicago's Del Award for "Best Non-Harold Improv Show" in 2013 and 2014.
Jason Shotts is an accomplished teacher at the iO Theatre, twice receiving iO Theater's Del Award for Teacher of the Year in 2011 and 2013. Colleen Doyle taught at iO Chicago (Teacher of the Year 2014) and iO West, where she also served as Artistic Director and Training Center Director.